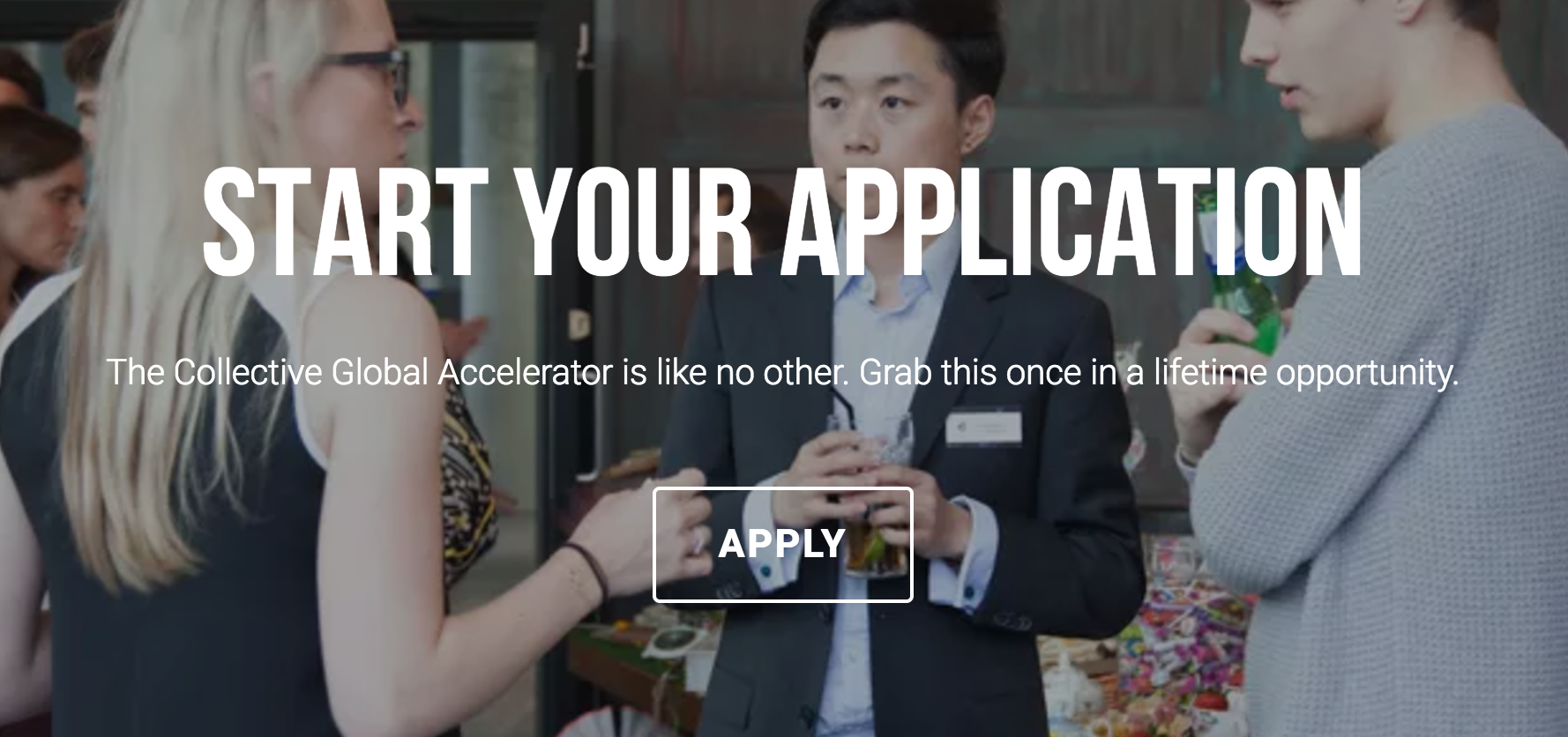 Are you a social entrepreneur who creates opportunities for others with your organization?
The Collective Global Accelerator (CGA) is looking for you! Spend 4 weeks in London this Summer and get training & workshops, mentoring, and access to our network and investors. The programme is fully-funded by The Collective Foundation. The programme runs from August 7th until September 4th.
Our programme serves entrepreneurs and innovators from all over the world. At CGA, you'll get the mindset, tools, and network to help you scale your social enterprise and become an extraordinary entrepreneur. If you're looking to make a difference for people in need, we can help you do just that.
 Benefits
If you attend CGA, you'll have an extraordinary opportunity to:
learn how to become a better entrepreneur;
be part of a community of people who share your commitment to do good;
grow into a global innovator;
get access to our network of world-class experts and thought leaders;
have the opportunity to raise the funds you need to scale your venture.
All expenses are covered by The Collective Foundation. This includes international travel (flight tickets), local travel in London, accommodation for the duration of the programme and a small stipend for meals and basic expenses.
 Eligibilities
You are between 20 and 35 years old.
You run an organization in the start-up phase (0-3 years old). It can be either for-profit or not-for-profit. You can also apply with just an idea, but it would help then if you can prove you already have a successful entrepreneurial track record.
Your start-up creates opportunities for people in need.
You are from anywhere in the world. Yes, we accept applicants from all countries!
Key dates
March: Direct admissions open.
April 30th: First 5 participants are selected, all applicants are notified.
May 30th: Last 5 participants are selected, all applicants are notified.
August 7th – September 4th: Accelerator programme in London.
Application Deadline: April 30, 2017. Start your applications now at the link here.
Location: United Kingdom
Picture credit: Collective Global Accelerator